Issue 49 December 16th
This week's guest speaker was Rick Mullaney, Founding Director of the Public Policy Institute at JU. He gave an inspiring talk about the restructuring of our local government after a crisis in the 1960s and how it led Jacksonville to develop one of the most unique local governments in the nation, allowing us great possibilities for the future. Rick also hosts the Policy Matters radio show so tune in and give him a listen!
Our Christmas Kids charity event was a big success. Here's a letter we received from a grateful parent: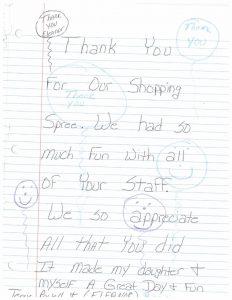 Our next weekly meeting will be January 9, 2019. I look forward to seeing you there. Until then, I wish you and your families a Happy Holiday Season!
Steve DeSorbo
2018 President
---