Meet the President of Our Civic Club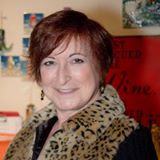 Thank you so much for putting your trust in me to be your 2023 leader. I will do my best to keep the ball rolling and help lift up our organization – to increase membership, be totally inclusive to all, produce great programs and socials, and encourage participation from everyone, whether it be on a committee or just as a volunteer.
With my over 20 years of membership and seven years on the board, the experience I've gained and club history I've learned will help set the tone for a great year.
Our officers and board are ready to take on new challenges and are well equipped to do a great job.
If you ever have any questions or suggestions for the club, please feel free to email at Jeanne@thegiftedcork.com
Drink the club Kool Aid and get involved!
Jeanne Maron, President